Read: How to download BBC radio(audio) by HiDownload from iPlayer
Update: Nov 17, 2009
Software requirement: HiDownload 6.x or higher (Download it)
How to download BBC radio(audio), tv(video), BBC News by HiDownload
HiDownload as BBC Radio Downloader, help you save/download the RealAudio(ra/rm/ram) to your pc, and listen them offline.
Step by Step Instructions
1. Open BBC Radio webpage
2. Click "Open BBC Radio Player", you will open the windows below: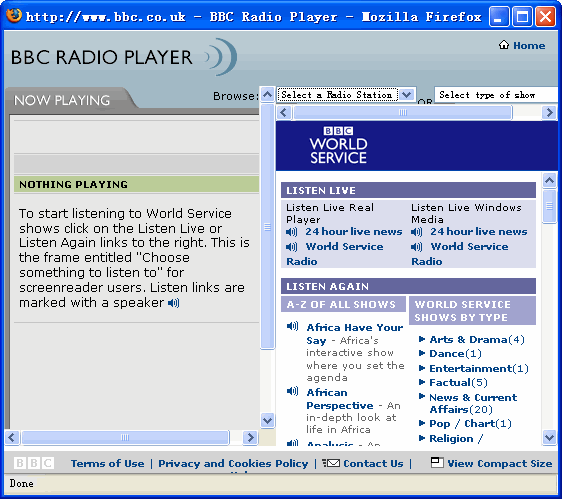 3. Choose a radio station(like: Radio 1), you will get the radio list:
4.click mouse's right-button on a radio(like: Annie Mac's Mash Up), then select "Download by HiDownload" menu(If you use IE Browser) or "Copy Link Location"(If you use FoxFire Browser).
5.Open HiDownload's Add Window.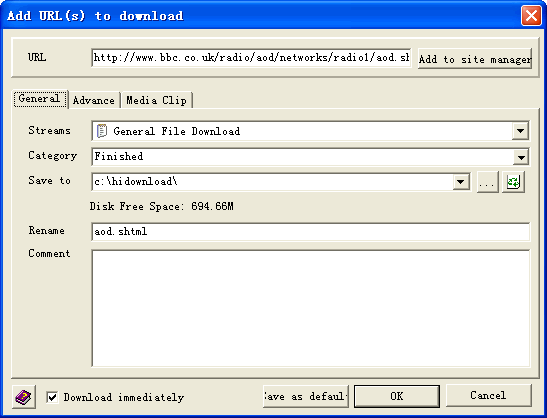 6.Clicked "OK" button, HiDownload start to download the link, and get automatically the actual bbc realaudio link, download ra file.
Tip: If you want to convert rm/ra to mp3, download "Streamingstar Converter" to convert them.

How to Download Stream video and video
Relate Link