How to download bbc podcast and manage bbc podcasting by HiDownload
Note: Software requirement: HiDownload 6.98 or higher (Download it)
1.Open "Podcasts By BBC Radio Station" webpage, select the category(Radio 1, or radio 2, or ...)
2.click the "Podcast" button, go to next webpage and copy the "Feed URL"
3.Run HiDownload and select the "Podcast" in category tree

4.clicked "Add" button

, open the "add" window and paste the link to "URL of Podcast" editbox
4.check "Update immediately", then clicked the "ok" button.
5.After get the RSS file, HiDownload will download the mp3 or other media files.
Schedule the BBC Podcast
1.open "Option" windows, and select "Podcast", then you can change the "Check for new eisodes".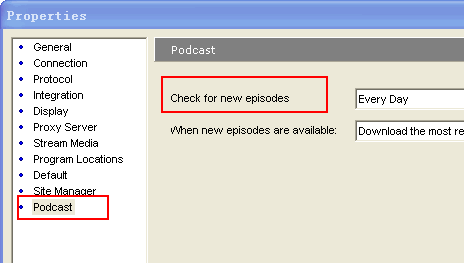 2.then check the "schedule to download the podcast" in podcast properties window, HiDownload will check automatically the podcast.