Software requirement: HiDownload (Download it) and URL Helper (Download it)
How to download Israel news video, TV broadcast from mako.co.il RTSP Server by HiDownload
Mako.co.il: Israel News & Entertainment site. Owned and operated by Keshet, Israel's largest TV broadcast company(פורטל התוכן של קשת: אוכל, גברים ונשים, רוח, ספורט, טיולים, מוזיקה מבית mooma, צחוק וביפ, כסף, וכמובן חדשות ערוץ 2 והתכניות של קשת: האח הגדול ...)
HiDownload as mako video Downloader, help you download the windows media (wmv) to your pc, and watch them offline.
Step by Step Instructions
1.Run URL Helper, select the adapter which you connect to Internet, and start sniffing.
2.Open the mako.co.il website, play the video.
3.When the video is shown, and you can find the video downloadable link in "URL Helper" list.
5.Select the link, clicked mouse right-button, then select "Download by HiDownload", open the "Add" Window.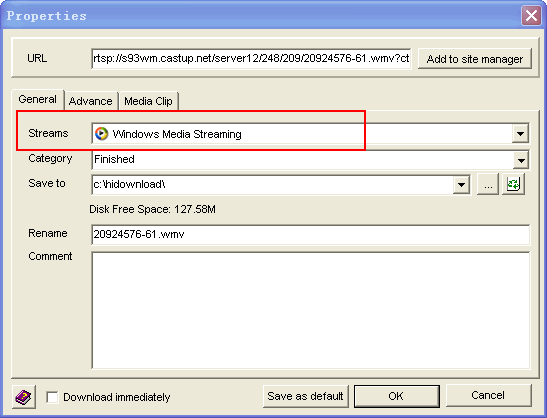 6.Clicked "OK" button, and HiDownload will start to download the video.

How to Download Stream video and video
Note:
If the videos are adobe flash video, and you can not download the video, then try "Flv Recorder" to record the video. More details: www.flvrecorder.com
Updated date: Jul 29, 2009