Software requirement: HiDownload 7.0x or higher (Download it)
How to download soutcast radio mp3 stream from SHOUTCast.com by HiDownload
SHOUTcast Radio is the home of free Internet Radio. Tune-in to thousands of free online radio stations from DJs and broadcasters around the world.
Step by Step Instructions
1.Open
SHOUTCast
webpage, and click mouse right-button on the "Tune In! " and select "copy shoutcat"(IE Browser) menu, or "copy link location"(FoxFire Browser) menu.
2.run HiDownload and open "Add" window, select "MP3 Streaming (SHOUTCast, IceCast)", then press "OK" button to download radio stream.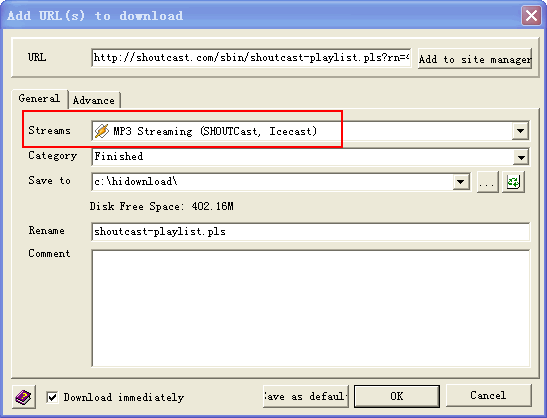 3.HiDownload save mp3 streaming to separate files, and update automatically the MP3 ID3 information.