Software requirement: HiDownload (Download it)
Step by Step Instructions
1. open winamp.com website
2.click mouse right-button on the "LO SPEED" or "HI SPEED"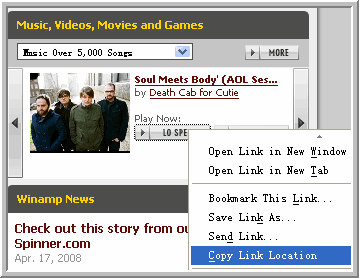 3.select the "Copy Shortcut"(IE Browser) menu or "Copy Link Location"(FireFox Browser)
4.Run HiDownload.
5.Click the "Add" button, you can find the url in the "URL" editbox, and the streams is "General File Download".
6.Click <OK> button, HiDownload start to download the link(.pls), and get the actual music or video's URL(.wmv, wma, or .flv), then continue to download them.

Updated Date: April 30, 2008
Relate Link
How to Download MTV.com music video
HiDownload as Youtube Video Downloader(How to download youtube flv video)