We added the "Sniffer" feature in HiDownload Platinum version, it replaced the feature of "URL Helper".
How to use:
1.When You install "HiDownload (Platinum version)" and run, you are asked to start sniffer.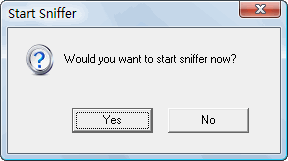 2: select the "Yes", HiDownload Platinum will check the available network adapter and start sniffer.
(1) If HiDownload Platinum can not find the available network adapter, then all network adapter list window will be opened.
(2): select the adapter which you connect to Internet, then click the "Select the network adapter and startup sniffer" button
3.Sniffer start to capture network data packet, and detect the stream's llnk(URL)
4.If the stream's link(URL) is detected, and you can select the link and download it.

5.If you want to download automatically, please open "Options" window, and select "Download automatically" of sniffer.
Updated: May 21, 2010